tyre pyrolysis oil distillation process

The working process of tyre pyrolysis oil distillation process :
1. Prepare crude oil.Put crude oil in the crude oil refining plant for further process;
2. Heating for distillationHeat pyrolysis oil in non-oxygen environment, which will start to boil and evaporate; at the same time, heat conduction oil also transfer heat to crude, so the temperature goes up very quickly.
3. Cooling.Put those vapors through a cooling pipe and the vapors will condense to liquid , while some of the vapors with shorter hydrocarbon lengths will remain as a gas.
4. Chemical process for cleaning the distillation oil.The exit of the cooling pipe is then going through a bubbler containing water to capture the last liquid forms of fuel and leave only gas that is then burned in the reactor;
5. Collect final diesel product.This kind of diesel oil will be piped into deep purifying system with acidity and alkaline cleaning device as well as pressure filtering system. The color of the diesel directly produced from the standard distillation system is brown yellow. The purification system could make further purification for the diesel ,thus to get light yellow color.
Products of distillation equipment and application:Products of pyrolysis oil refining plant include 85% diesel, 10% asphalt, 5% water and other impurities. The final diesel after refining can be used for tractors, trucks, ships and diesel oil generators etc, and asphalt usually for paving and refinery.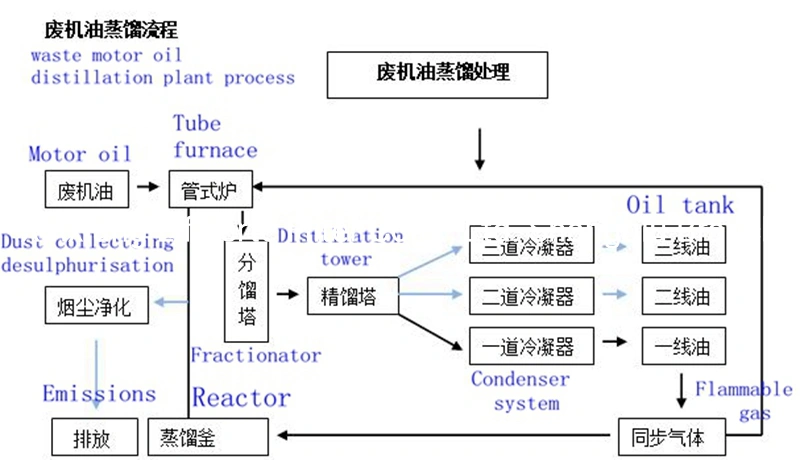 Contact me for more details.